The Yeti is not scared about high temperature
The only stickers that are trusted by fire stations.
Heat Resistant and Conformable
They are very thin and will fit perfectly on your helmets and equipment. Our stickers resist to the highest temperatures and to the hardest conditions. The StickerYeti labels are the only stickers trusted by fire stations.
Unlimited Personalization
Go one step further with our unlimited stickers. You can have stickers with the name of each member of your crew or write unique references to organize your equipment. No minimum quantities! Contat us for a quote.
Custom shape and quick builder
Any shapes and any sizes are possible. Use our builder or send us your logo/file and we will print it the way you want. You prefer to build your sticker online? Try our easy to use builder and design your labels within a few clicks.
High Quality made in the USA
All StickerYeti labels are waterproof and scratch resistant. The Yeti produces all stickers in the USA. For providing you the best labels we use only high quality products made to last for years.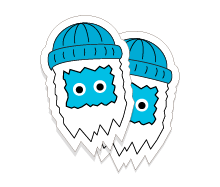 Die-cut Stickers
Get some die-cut stickers to match your design better. They are ideal to increase awareness for your brand or your event.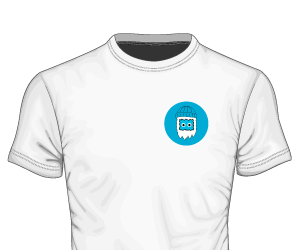 Round Iron-on Transfers
Create unique clothes with Yeti's personalized iron-on transfers. Ideal for marking t-shirts, work clothes, tote bags, uniforms or any other fabric with your logo.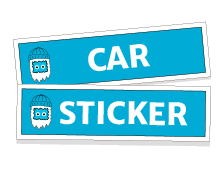 Car Bumper Stickers
Yeti's Car Bumper Stickers are perfectly suited to bodywork and adhere perfectly to chrome parts or plastics. Car Bumper Stickers are resistant to pressure washing, scratches, and sunlight. No danger to your paint and they do not disintegrate when removed.